Coral reef and mangroves
When the road from Balfate to Rio Esteban was constructed the normal quebrada flow was diverted. The mangrove area suffered because of the loss of fresh water, and the subsequent filling in of the lagoon. FunaVid therefore now wants to restore the mangrove lagoon in association with the CURLA Marine Biology Department professors.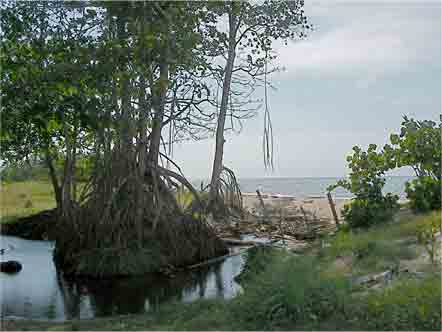 Mangroves by the shore by FunaVid cut off from the sea. Photo Tiiu Miller 2009
The mangrove area is part of the Dole land that they have allowed FunaVid to use. Restoration of the mangroves has been started by planting 600 mangrove seedlings, provided by professor Norman Sabillion of CURLA. They were planted out very successfully. We are delighted to say that only one of them died.
Intern students planting mangrove seedlings in the nursery. Photo Dr. Dodson 2011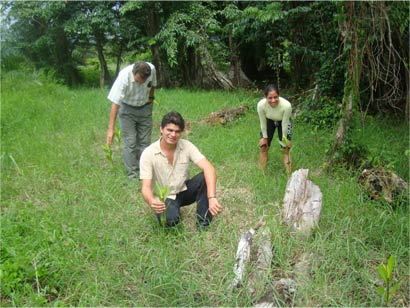 Recently planted mangrove seedlings being shown by the CURLA professors. Photo Dr. Dodson 2011
The shore by FunaVid. The breakers in he distance show the line of the coral reef. The inset is a piece of dead coral found on the shore. Photo Dr. Guillermo Valle 2009, inset Rick Seal 2010.
Going out in a small boat to assess the reef, and a better boat supplied by the Honduran government – one they had confiscated from drug traffickers. Photos Dr. Dodson 2011 and Tiiu Miller 2013.