Conclusion
The Team was asked specifically to: (1) ascertain the scientific veracity of the sustainable watershed project that was show cased by the non-governmental organization FUNAVID, March 24, 2004 at the WW2BW Summit on Sustainable Development held in Miami, FL.; and (2) determine if the scientific model being proposed could be effectively duplicated in similar ecotypes of Honduras and other countries of Central America. In addition, the Team was also asked by Ms. Gatchell to address ways the Institute could be engaged in this project as part of the overall objectives of WW2BW.
Our investigation and site review leads us to conclude that the agroforestry alley cropping system developed at UNAH-CURLA shows much promise in providing farmers with a sustainable agriculture system that can be utilized on steep terrain and add economic stability to their farming system while protecting soil from erosion, water from contamination, as well as improving wildlife habitat through the planting of tree corridors as part of the alley cropping system. As envisioned in trials at the University these corridors will be planted with fruit trees and economically valuable tree species that can be harvested in the future for food and fuel. Yields of crops planted in the alley cropping system appear capable of meeting the basic food needs of a family of eight with the potential of some surplus that can be marketed. Wood harvested from trees will provide fuelwood to supplement the energy needs of people.
This alley cropping system and its employment will help in addressing the primary goal of the USAID/Honduras Program, which is to increase economic growth to reduce poverty. The system utilizing the tree legume Inga oerstediana (guama) with its wide distribution in Honduras and capability of it to being used in all the distinct physiographical regions of the country makes it system that likely can be duplicated in other countries of Central America. Furthermore, this system should have a dramatic affect on reducing non-point sources of pollution from the slash and burn farming practices that presently are employed within the proposed study area and subsequently reduce sediment impacts on the corral reef system.
FUNAVID, with its strategic 500-ha coastal micro watershed and supporting infrastructure, is successfully reaching out to the adjoining communities with sustainable agriculture experimentation, evaluation, training and employment of successful agriculture practices across the North Central Coastal Basin to control land-based sources of pollution to the adjoining marine systems. FUNAVID is working closely with faculty and various departments at UNAH-CURLA to provide a training facility and an agriculture extension demonstration facility to be used to reach out to the farmers and communities on the North Coast. This NGO has successfully gained both the trust and the support of the farmers and communities and their leaders in this extension outreach/ training role. This was verified to the Team in meetings with community leaders and farmers.
The partnership between UNAH-CURLA and FUNAVID is strong, complimentary and builds on the strengths that they both posses. The agroforestry model that is being advocated by the University and FUNAVID is built upon good basic science research and should upon deployment establish a foundation upon which poor rural communities and farmers can build for a higher standard of living and progress beyond just meeting the basic levels of subsistence survival.
6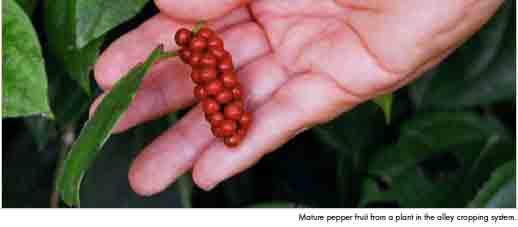 Mature pepper fruit from a plant in the alley cropping system.