Appendix 2 Water to Blue Water (WW2BW) A Sustainable Development Partnership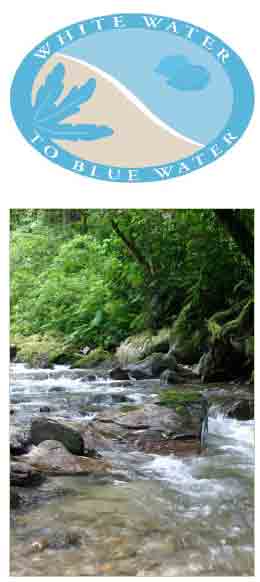 WW2BW is a World Summit on Sustainable Development partnership led by the Caribbean community, Comisión Centroamericana de Ambiente y Desarrollo, the united nations Economic Commission for Latin America and the Caribbean (UN-ECLAC), the united Nations Environment Programme (ENEP) and the United Sates of America. The partnership is under the direction of an international Steering Committee representing governments, U.N. organizations, nongovernmental organizations, universities, and the private sector. WW2BW is based on the conclusion that sustainable development in the Wider Caribbean region is not possible without integrated watershed and marine ecosystem-based management. The process is designed to create and expand as many partnerships aimed at these twin goals as possible. The Department of Agriculture, National Oceanic and Atmospheric Administration, the Agency for International Development, and EPA were all part of the United States Team lead by the State Department that helped plan and execute the WW2BW Partnership Conference March 22- 16, 2004 in Miami, FL. The Miami Conference was an important event in implementation of the partnership. The meeting was designed to focus on four overlapping themes: integrated watershed management; marine ecosystem-based management; sustainable tourism; and environmentally sound marine transportation. The USDA Forest Service had the lead agency role in the development of the integrated watershed management theme for the conference. The Institute is the lead USDA Forest Service unit for carrying out the objectives in the Wider Caribbean of the WW2BW partnership established at the Miami Conference.
The Honduran WW2BW Team made a presentation during the integrated watershed management theme at the Miami Conference on March 22, 2004. The presentation "Unique Agroforestry Solutions for Controlling Non-Point Source Pollution in Wet Tropical Areas" was a thought provoking presentation on a unique agroforestry system under development at CURLA National University. The hypotheses of the system is that when applied in the steep slopes of watersheds in Honduras it will not only help to control non-point source sedimentation but also help to break the poverty cycle of slash and burn agriculture. Over the past year the Institute has assisted the Honduran WW2BW team by providing technical information from its library as well as technical advise by phone and was pleased to comply with the request from Senator Cochran.
12